Uprooted and feeling more at home than ever!
Even if not living in your birth country or as an international woman…
Do you feel lonely sometimes as an international woman, maybe a bit unsettled, without energy and searching for a (new) balance?
Instead of 

deeply enjoying

your international life, you miss your close friends and actually,you still have limited real friends where you live
You might feel alone, maybe even stressed and anxious at times of settling in, moving, and not knowing for how long you'll stay
You are tired of keeping all the plates spinning, never finishing everything that must get done. 
You feel emotionally exhausted

, as if you are the viewer of the movie of your life instead of the main character.
You might struggle with the (new) language(s) and cultural habits. How do things work here? When will I finally get this language?
How would your life change if you could share and get the tools you need to feel fully relaxed and feel at ease no matter where you are?!
How much me-time do you really have?
How would your life change if you put yourself first?
Would you like that to change?
How much work do you really get done?
Change your life by no longer multitasking the pieces of your life together! 
So you get more done!
How often do you worry
about the future or mull over the past?
Can you imagine
a worry-free life?
How would that feel for you?
Imagine putting yourself first without feeling guilty….!
I combine the 1-1 coaching with an Essential living master group. So that you, as international women, can become more profoundly grounded in yourself. Because this is exactly what you need when you are living in, or with a different culture, having had to start from scratch, when you don't speak the language and don't know the customs, or you are finding them challenging to adapt to. When you don't even know if you will stay somewhere for a long time or when you have an international life behind you, and you then return to your roots. You are not alone in this.
You, who have embraced big changes in order to live an exceptional and unique life, choosing to expand and celebrate new cultures and experiences. Yes, YOU!
So, are you going to travel with me and a group of like-minded women for 3 months?
No matter where you live, your current situation and no matter where you are at in your life? Would you like to take part and connect with women who are experiencing the same as you? You don't want to miss out, do you? Have you already begun to understand how powerful this is?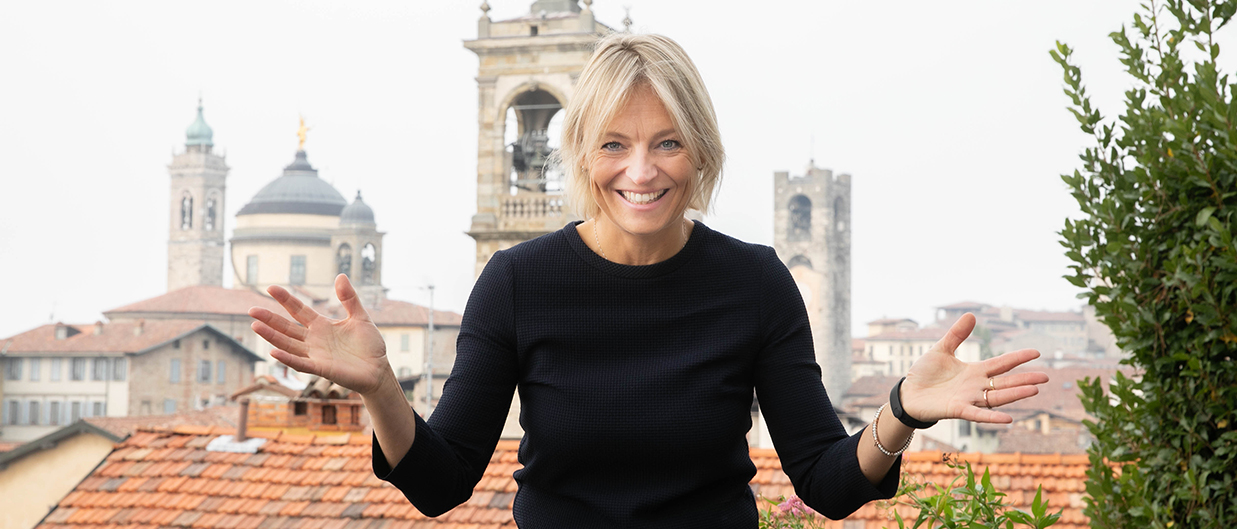 I know what it is to live an international life and to make yourself familiar with another culture.
For almost 12 years now, I have been living in Bergamo, Italy with my Italian partner and two children aged 6 and almost 9.
I have experienced all the nuances of starting over. Ups and downs, sometimes falling down and getting up again.
My knowledge as a coach and trainer helped me a lot in this and that is exactly the reason why I love to coach you and give you just that little bit of extra power you need to live an international life as a woman and/or to live together with other cultural habits and backgrounds.
I get where you are at, AND I want you to know that it is possible to slow down, find more ease and peace in your international life, take better care of your health and still be productive, ambitious, and living the life you ACTUALLY dream of wherever you are. If I can do it, you can do it certainly too.
This shift doesn't have to be a struggle and it also doesn't mean sacrificing your family, career or other priorities.
It just requires that you matter more to yourself!
Life Coach, Communications Trainer and Physical Therapist
They've already worked with me…
Jiska gave me the opportunity to really assess what is important to me, and how to manifest it. For me, this coaching has helped me learn more about myself and also helped me to want to care more about myself.  I would recommend Jiska as a life/wellness coach to anyone feeling like they need guidance or clarity in any aspect of life.
Jiska listened to my anxieties in a non-judgemental way.  She questioned my fears in a matter of fact way and this allowed me to explore where they stem from. I had always focused on the worry or fear itself but never its root cause. I also had some personal baggage that I had to address before I could begin this journey of wellness.
The exercises and techniques Jiska has taught me have helped me to metaphorically step back and assess situations from a place of non-judgement.
I didn't wanted to invest in coaching but after talking with Jiska I felt that I had to let go of my objections. Jiska understood and recognized the moments when I got into hassle. Through her direct and correct words I felt that she connected with me at an emotional level.
I felt a warm strict approach that encouraged me to take action. It gave me confidence to go deeper inside myself. Jiska is a good listner, her feedback is strict but full of love. She confronted me with my words and ideas in an inspiring way and so afterwards I felt energized again.
She asked very good questions. At exactly the right points. That gave me a lot of confidence and security. Jiska is very good at what she does. She confronted and mirrored (regardless of judgment) and adjusted surgically, on a very high (or deep) level.
How do you join the Essential Living Method™ Coaching?
Step 1 Book Your Free Essential Living Boost
I offer you a 30-minute coaching call in which we talk everything through, and you can ask all your questions and share any doubts with me! So you'll be able to choose with 100% conviction if you would like to work with me.
Step 2  Join the Essential Living Method™ with 3 months of 1-1 coaching and the essential living mastermind group 
For 3 month you will be coached 1-1, and, in between the coaching sessions we will meet in the essential living mastermind group
Step 3  Enjoy this 3 months!
Celebrate your insights and results and see how your life changes for the better. Learn to thrive instead of surviving!
You deserve to live a life without overwhelm!
In 3 months,I will walk you through specific themes based on the Essential Living Method™ which applies knowledge, advice and guidance which can benefit all of us as (international) women and that we can all work with, in our own unique way so, that you will feel empowered! That you feel that you are really taking root in the life you are living right now. That you FEEL (again) powerful and that you notice how powerful you really ARE.
So, you will feel at home and have the so needed energy for your family, for your work and for this (new) life. When you realize just what this program can do for you, you will want to dive in and create long lasting shifts and insights.
Are you making the choice to pull the world closer to you? Then step into my 3-month program and feel the power of 1-1 coaching complimented by an intimate group of women supporting each other.
Some people can be hesitant about a group until they experience the support, empathy, and insights it gives.
"After the group session I felt so much stronger, and I immediately put into practice what I wanted to do differently in my family life with direct positive results."
"As an international woman, you can sometimes feel quite lonely and then this is very nice way to connect and share, even with women I didn't know on forehand."
While you're thinking about how much this can help you, you can also book now your essential living boost to get your first result and to get all the details about this program!
At the end, the world is not so big at all.
3 months Essential Living Method™ Coaching with Mastermind
+ 6 X 1-1 coaching sessions

+ AS A BONUS: 6 essential living master group sessions via ZOOM.

+ Additionally, with further possibilities to connect with me in-between the 1-1 coaching sessions via Telegram or WhatsApp.
Some people take a long time to make a decision prior to seeing how much sense it makes to become part of this unique 3-month program which really will shift your life and offers the support adapted to your needs and desires.
You may or may not have already realized that change or a different approach is possible, but you need guidance to show you what you can do different. And there's nothing wrong with that. We all need that!
You deserve to live a life without overwhelm!
I have been where you were and I often thought that there was something wrong with me, and you know, 'there was nothing wrong with me', and there is nothing wrong with you either! You simple weren't taught how to juggle all the balls, how to put your own oxygen mask first and how to actually care about yourself so you REALLY enjoy your international life!
I will share with you all the knowledge and tools I gained in the last 20 years as a Physcial Therapist, Trainer Communications and Life Coach through studying, being coached myself, and being trained in several courses on stress, assertiveness, mindfulness and trauma. I will help you practice and I will help you to apply and understand all this knowledge
I work with you from the inside out, and from the outside in. By working with me for 3 months you will feel change on all levels: Mind, Body and Soul. 360 degrees! There are some super special surprises for you that will help you to shift faster! I will only offer this in this special programme!
My clients all experienced and increased pleasure in their lives after working with me: REALLY being able to ENJOY life and REALLY being able to RELAX! Most of them already experienced significant results in the first 5 sessions. In my 3-month program we go one step further, so that you really know how to hold on to the results and apply all the tools and knowledge in a practical and pleasant way in your life so you won't go back to old routines and habits.!
"If you could have done  it alone, then you would have done it already"